In honor of Women's History Month, I decided to do a post about why content is so crucial to public relations and marketing. Many people say content is king, but I believe it's queen because it runs nearly EVERYTHING for your brand online.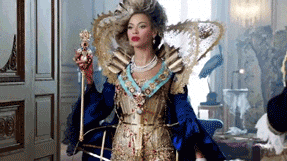 I've worked on educating (and re-educating) clients on why building your content arsenal is so important. And it's not just important for PR - it's absolutely critical for marketing.
Without further adieu, here are a few reasons why you absolutely must start creating more (great) content:
Boosts Your SEO
Google is the pack leader for all search engines, and it is frequently updating its algorithm for how to rank a website in search results. One thing that is most important is new content being posted regularly.
And you can't just stuff keywords in haphazardly expecting to rank higher. You must create something relevant and useful.
Most important of all, avoid duplicating your content elsewhere. It can penalize your site and the site where the content was re-published if you just go around copying and pasting an entire blog post to different sites.   
Can Increase and Retain Your Traffic
Great content, like in the form of a blog on your company's site, can help drive more traffic because you're (hopefully) providing additional value as information or insight.
The more relevant content you have, the better the chances are that someone will stay on your site longer and continue browsing rather than bouncing out of the page after just one click.
This also gives you a greater opportunity to capture leads.
Shows Off Your Expertise
Creating content establishes your authority on a topic.
And if you are integrating PR into your marketing strategy, you need to show why you're an expert and what differentiates you.
That goes for whether you're selling a product-based OR a service-based business.
Creating content sets the stage and helps persuade potential customers that you know your realm, and you know it well.
Provides a Means of Engagement
Content is especially crucial for social media.
If your brand is on social media (and you should be), you should only be posting sales-related material about 10-20 percent of the time.
Any more than that and you risk being labeled as too salesy and losing followers and/or having them tune out.
To help fill up the other 80-90 percent, you should be linking to content you've created and featured on your website. Whatever your industry/niche is, there are people who are willing to read and/or watch for relevant information.
Serves Multiple Purposes
In addition to establishing your authority, content serves a ton of other purposes.
By investing in creating great content, you can repurpose content in the form of blog posts, web pages, lead generation offers and even as guest posts on other websites – all of which will bring more links with them over time, and potentially raise your search engine ranking.
What purpose does content serve for you? Tell us why you think content is queen below!
Creating a content strategy doesn't have to be difficult. Send us a note here for a free consultation to learn more about how to create and better market your content.
Please reload